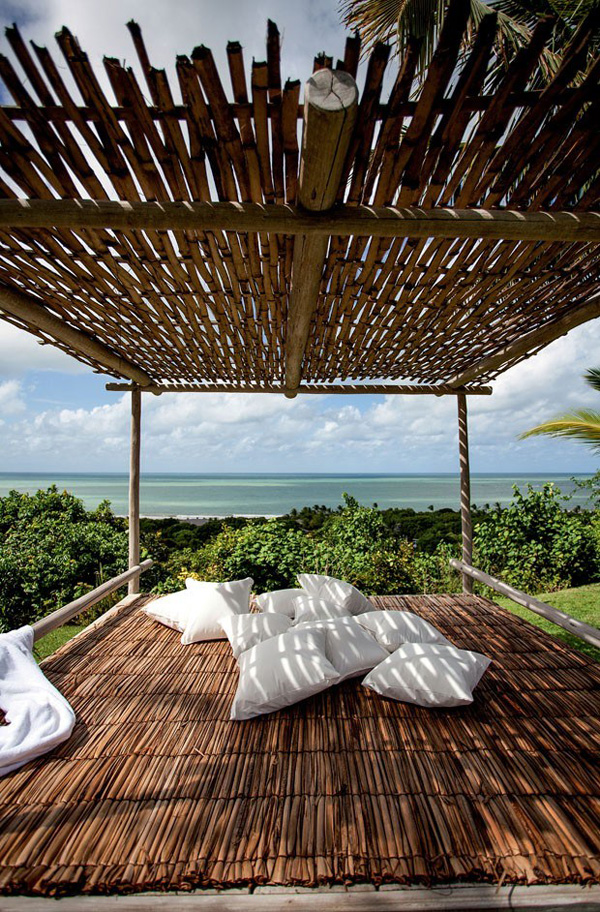 Howdy! I hope you're all having a great summer so far. We've just got back from our US adventure and I'm slowly working my way through our holiday snaps as well as piles of laundry whilst trying to stop the boys from having mud fights in the garden thus contributing to mentioned pile.
In the meantime I've got to share this gorgeous Brazilian beach house with you which coincidentally is where I'd like to be right now – and for the rest of the summer. How enticing does this pile of white cushions look?

The interior is kind of 'Scandinavia meets Brazil' with a muted colour palette and the use of lots of natural materials like wood, rattan and terracotta. Such a perfect contrast between the rough dark wood and the smooth white resin flooring. The fold-away glass doors set in heavy wooden frames make it easy to merge outside and inside letting the air breeze through and giving view of the lush green surroundings and the sea beyond.
But before I drift away with this dream holiday home back to reality and my pile of laundry. Wait… the kids are awfully quiet… *runs off*