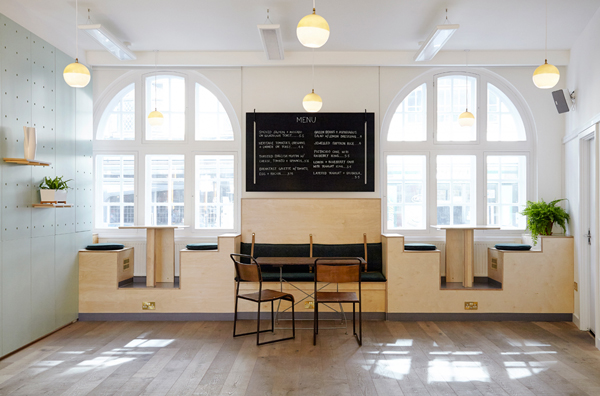 It's not even a year since Tiff and I set up Function+Form with the hope to bring like-minded interior and design lovers together and stimulate engagement on a face-to-face level. I can not tell you how excited we were to see so many lovely people turn up to Function and Form 03 last Saturday for breakfast at the Dean Street Cafe in London to hear the story behind this exceptional venue and it's interior designer Nina Woodcroft.
Though life is becoming evermore transient Tiff and I feel that values such as good design, quality, form, function and sustainability remain a constant which is our benchmark when deciding on where to hold our events and who to partner with.

The Dean Street Cafe owned and run by UK charity Centrepoint lent itself perfectly to hosting Function+Form 03 and we were thrilled when Nina agreed to fly over from Amsterdam to be with us on the day and talk us through her professional journey as well as her concept behind the interior design of the cafe.
For me Nina personifies the apprenticeship concept when she took the brave step straight after school to start work immediately. Though not as a formal apprentice but as a receptionist in an interior design firm where her attitude, engagement and curiosity for the industry saw her progressing to design assistant and designer before being made partner working on multi-million pound projects from hotels to residential and retail – all within the space of ten years.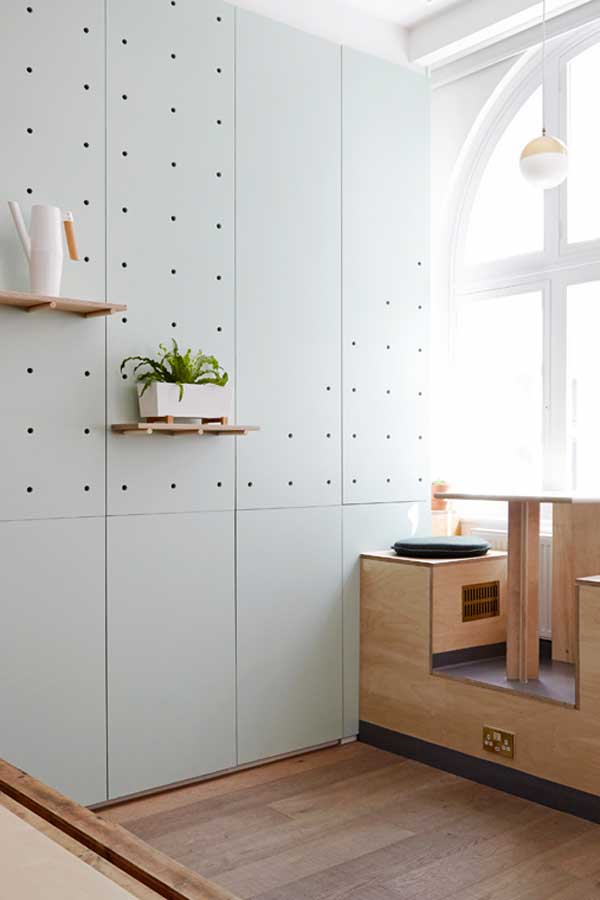 The experience gave her confidence to set up her own studio in 2014 where she can now adhere to her own standards of sustainable sourcing and low-impact on the environment as well as fitting projects around her passion for travelling. Like many self-employed people it's all in the mix for her and though she does have her 'bread and butter' clients she makes a deliberate choice to work on social enterprise projects to fulfil her duty of increasing client and consumer awareness and promoting the notion of wellbeing.
Speaking about her project at Dean Street Cafe she says:
"It was a privilege to work with Centrepoint. This was an opportunity to give the Client something interesting and creative to help them stand out from a large crowd and to offer Soho's locals and visitors a fresh, conscious and sustainable alternative. I wanted the space to reflect the sanctuary from the outside world that the charity provides for vulnerable young people. The opportunity to be part of a busy, vibrant space for homeless young people to turn their lives around was a huge inspiration."
Centrepoint in turn couldn't be happier with the solution as John Raynham, Head of Innovation and Enterprise at Centrepoint, states:
"Nina and Centrepoint were on the same page from the start. We both wanted an environmentally and socially sustainable solution and this theme runs throughout the project. Our aim is to motivate homeless young people to get into work and Nina has created a beautiful and authentic environment that will inspire those working here to excel."
For me this last sentence is the essence of why (interior) design is so important to us: it makes us better people! Our surroundings have a huge impact on us as human beings and at the cafe young homeless people can get training to become a barista or work in the hospitality sector.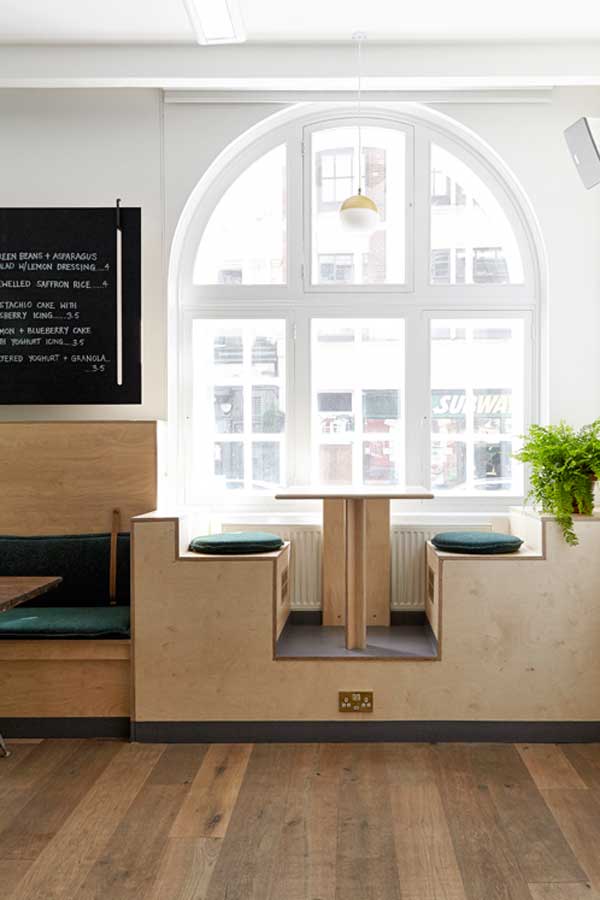 I've totally fallen in love with Nina's simple and modern design, her combination of materials, attention to detail, the different levels of lighting and clever design elements like the pegboard style wall and integrated seating at the large feature windows. It's a totally flexible venue space and tables and chairs can be easily hidden in the deep cupboards that form part of the pegboard wall. Available for venue hire, functions and training purposes during the week the cafe comes into it's own at the weekend when it not offers you delicious locally sourced food and drinks but one of the only sunny terraces in the center of town.
Go and check it out and support the good work!
On another note… Nina's favourite meal of the day is breakfast and she has recently released a ceramic breakfast collection which I've written about here. There are some stunning special edition mugs which can be purchased from At The Table via this link.
Our breakfast was sponsored by the lovely ladies from Luminary Bakery – another of Nina's social enterprise projects. Exceptional Juice and Mylk from The East London Juice Company – resident at the Ace Hotel. And of course by head chef Dean Masters who managed to put everything together in record time.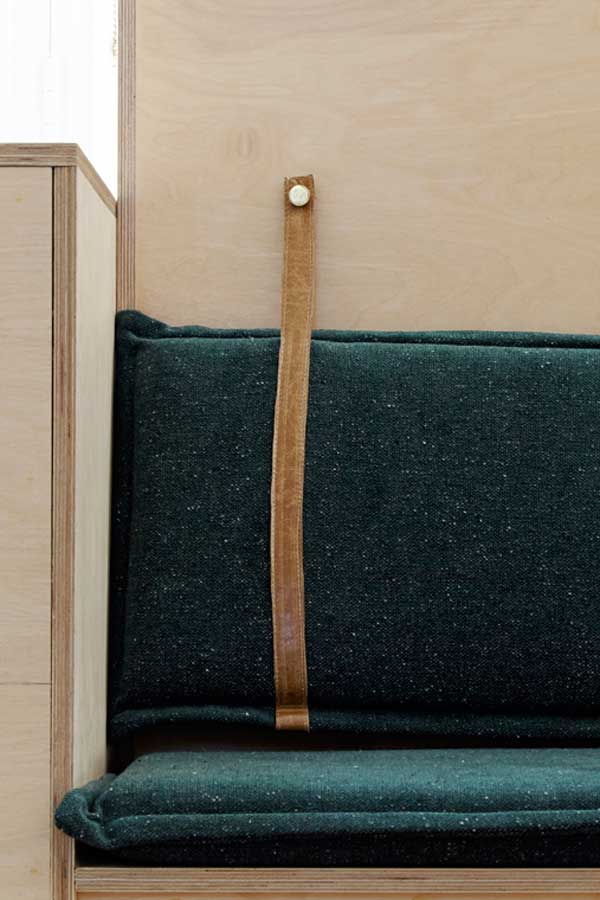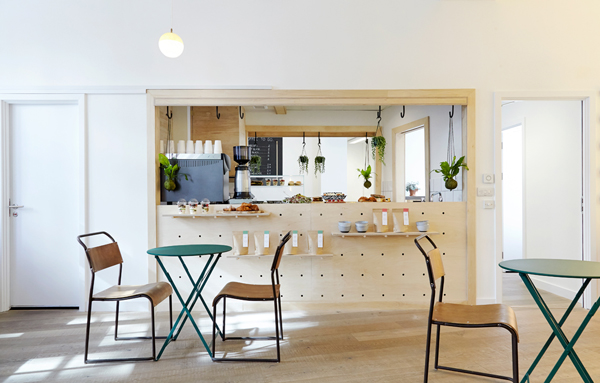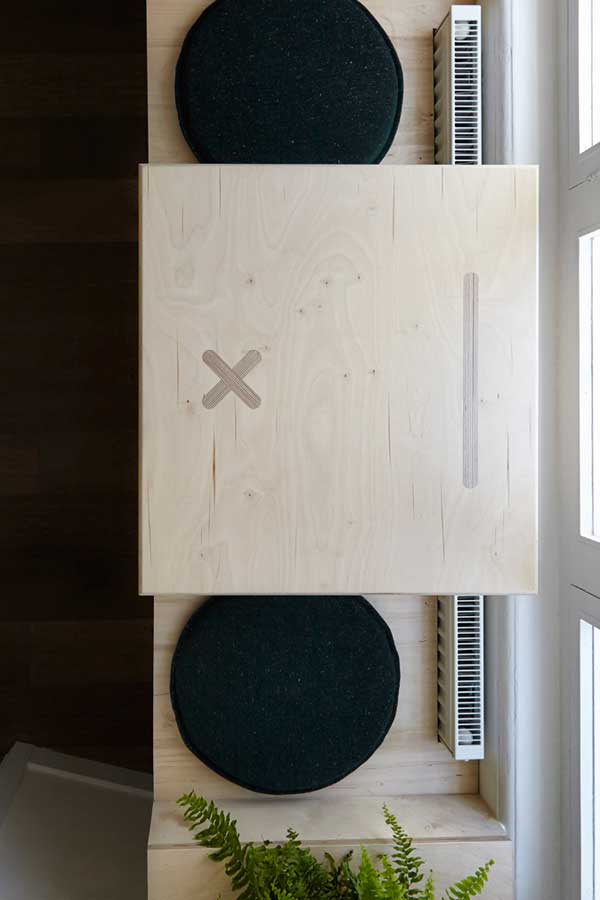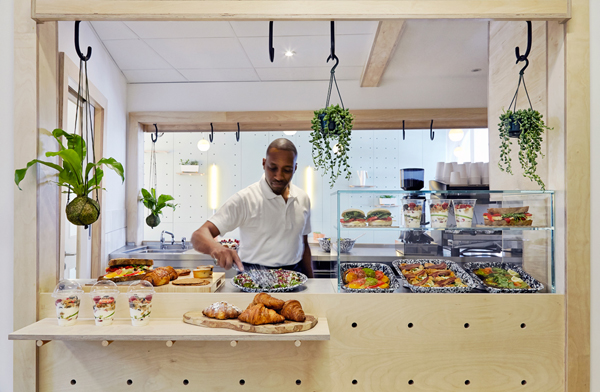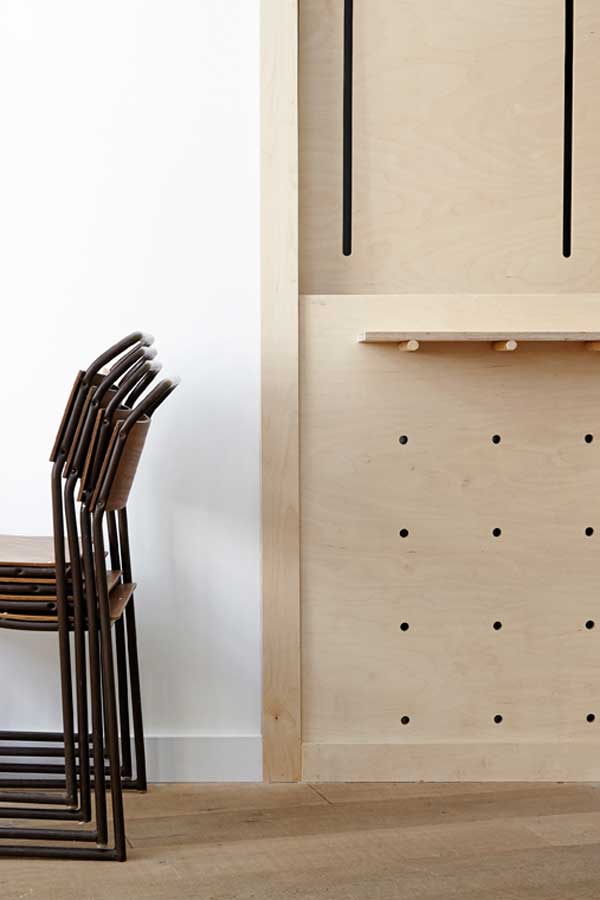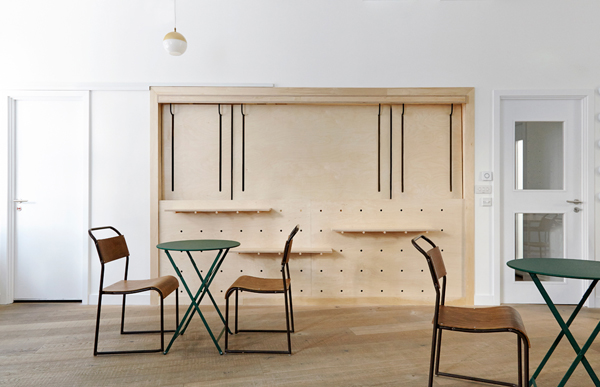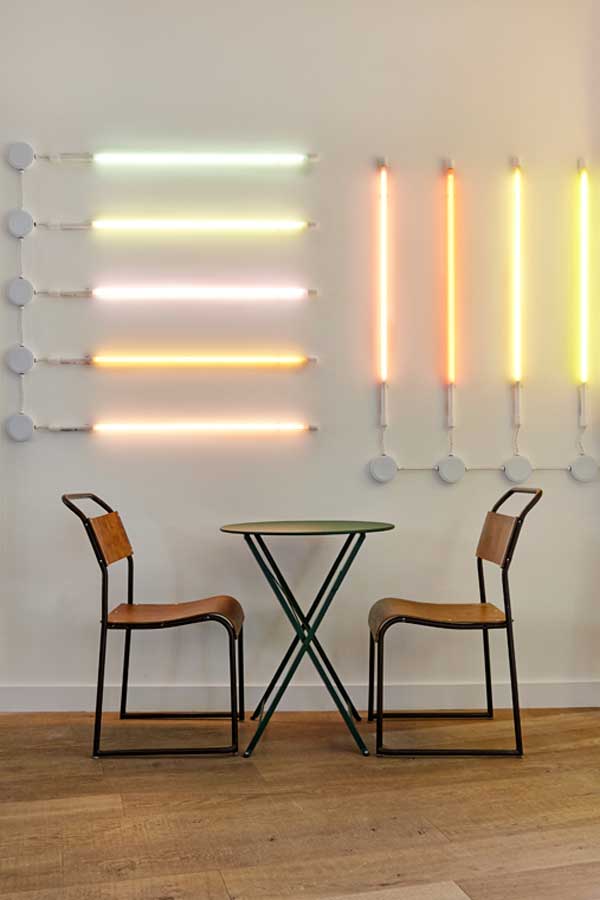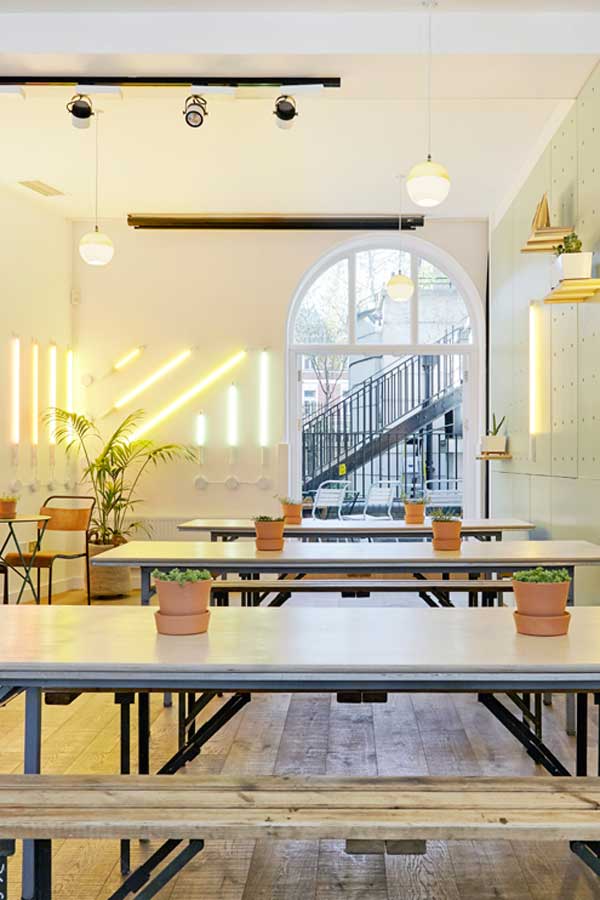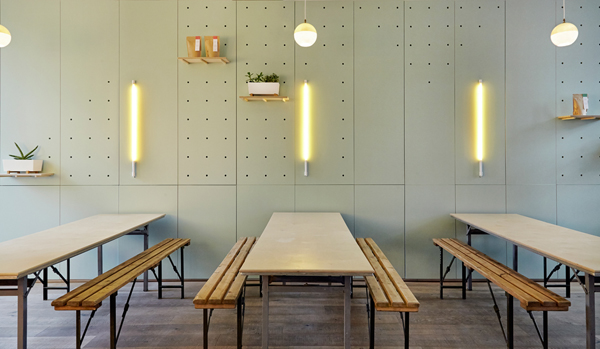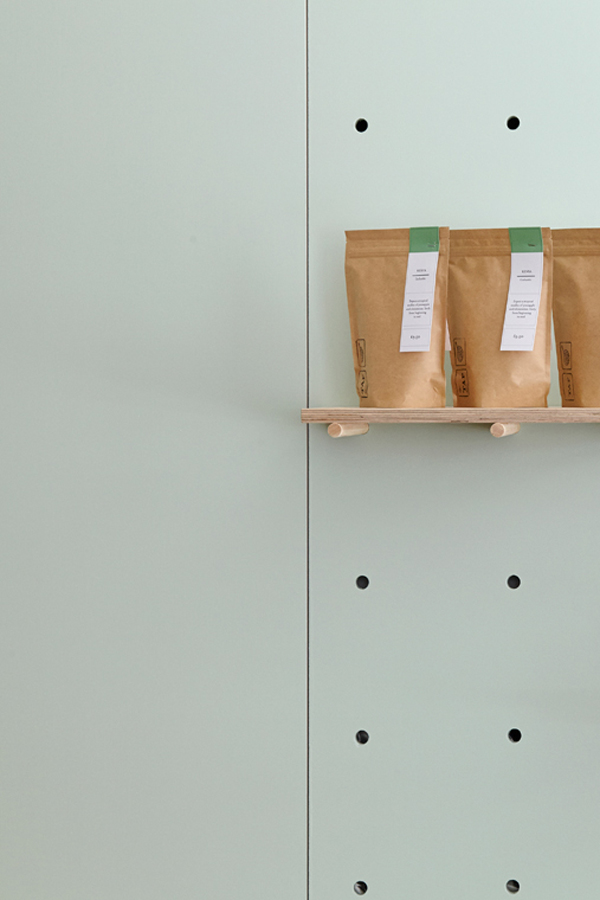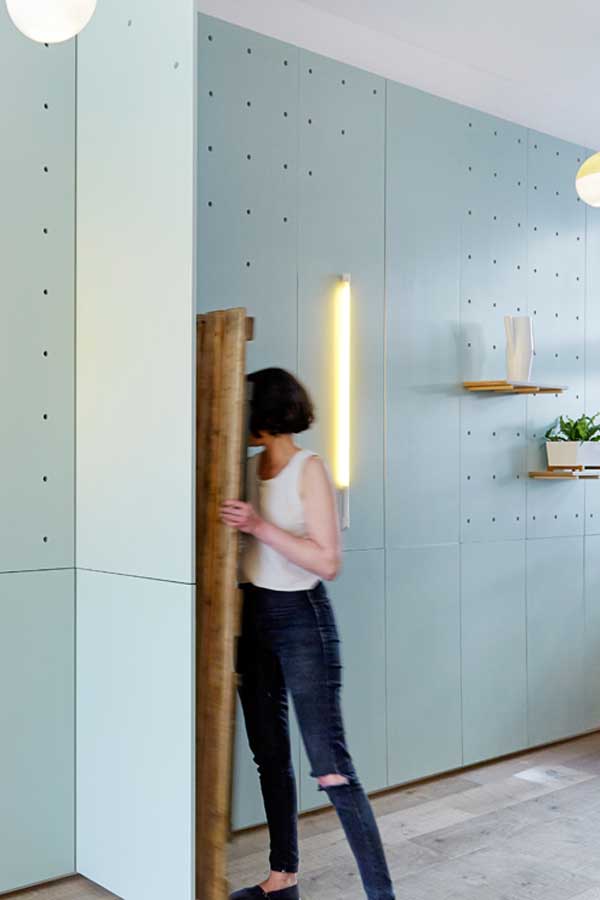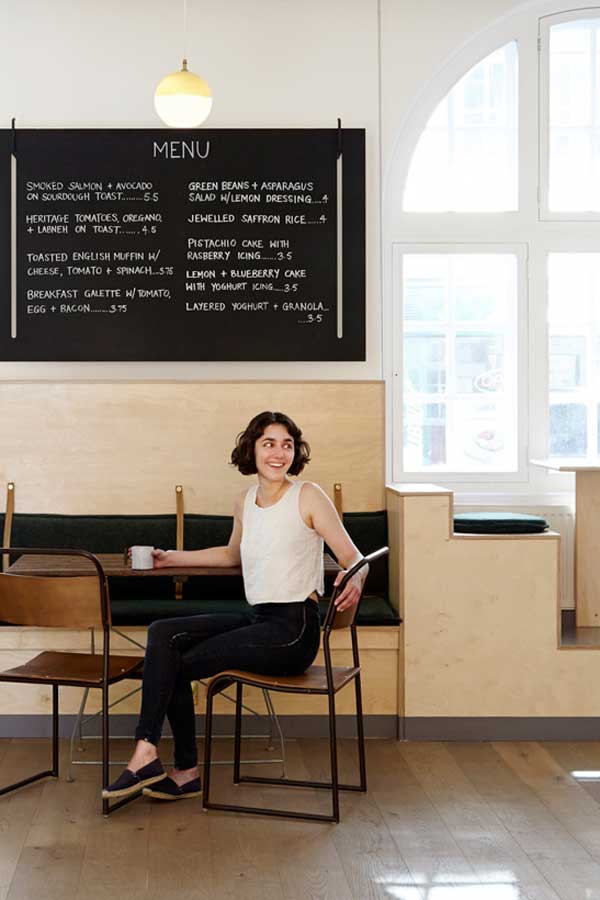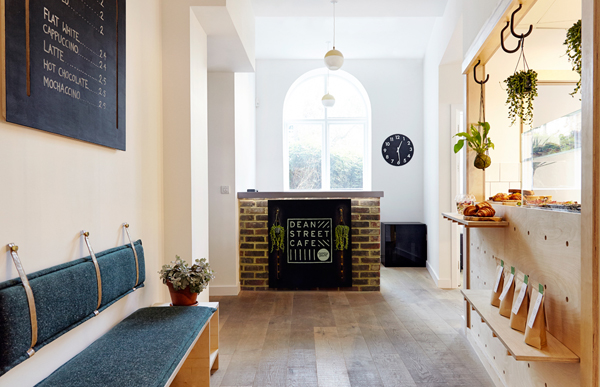 VENUE | Dean Street Cafe
INTERIOR DESIGN | Nina+Co
PHOTOGRAPHY | Anna Stathaki with thanks
OUR PARTNERS | Centrepoint, East London Juice Company, Luminary Bakery

If Function+Form sounds like your kind of thing drop us an email at hello@wearefunctionandform.com