'Tis the season to be jolly! Yay! It's my first Christmas post so I'd better make it a good one, eh!?
To tell you the truth I'm a bit fed up this year with tradition and have been looking for new and inspirational decoration ideas that are stylish yet simple (ok, apart from the DIY wreath made out of wooden balls, but hey, it sure is gorgeous. I reckon she should go into mass production with this one).
Below is my selection of seasonal favourites and I'm hoping to feature a few ideas myself on Instagram over the coming weeks.
Don't worry I won't go overboard with the Christmas theme on the blog and just feature those nuggets that make the Stylejuicer cut. Ho ho ho!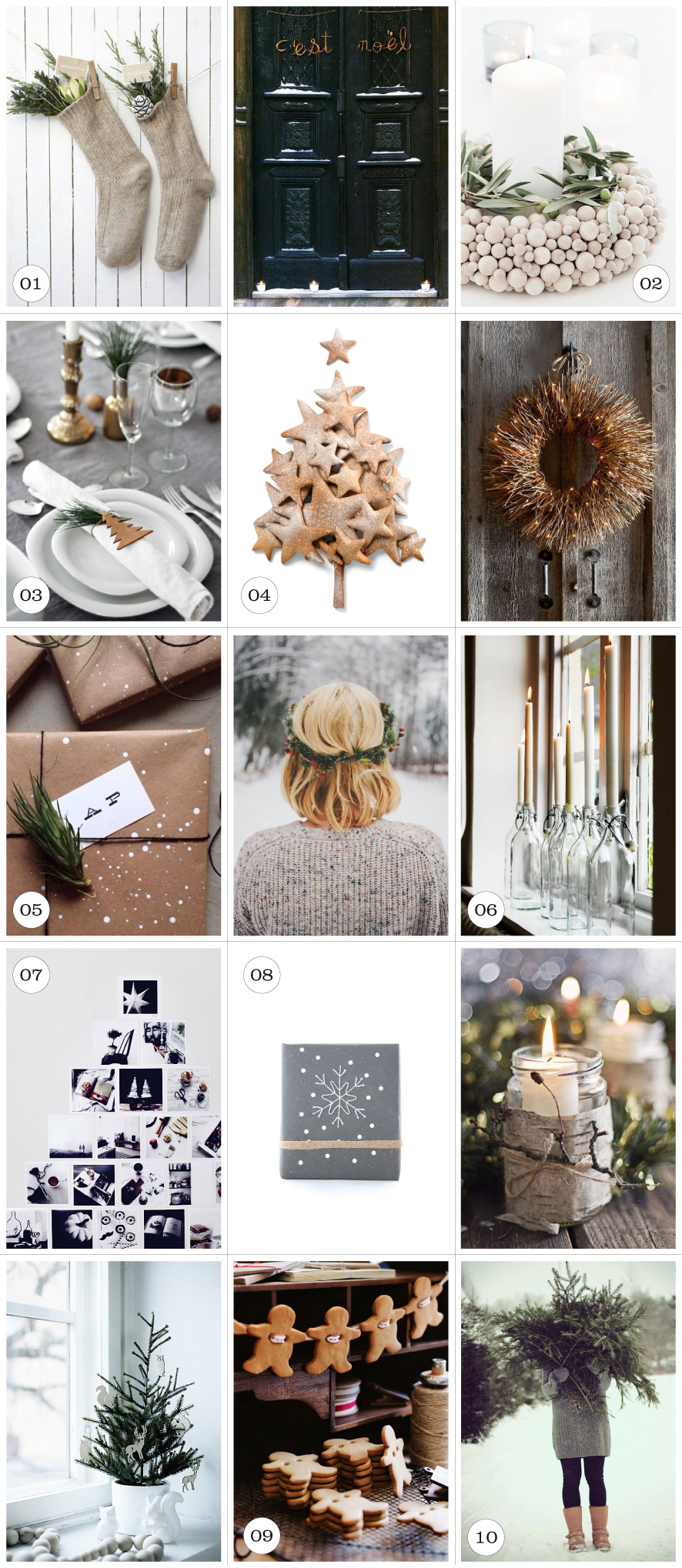 01. | Hang up your WOOLLEN SOCKS and treat them like a stylish decoration, as seen on La Petite Cuisine.
02. | For the DIY ENTHUSIAST: A beautiful wreath made out of wooden balls by German blogger Bildschoenes.
03. | Festive TABLE SETTING. Styled and photographed by the talented Nina Holst from Stylizimo.
04. | GINGERBREAD STARS in all different sizes make up one delicious Christmas tree.
05. | Genius gift wrap: Brown paper with WHITE PAINT SPLASHES for snow.
06. | I'm loving this simple idea of empty bottles in different shapes as CANDLEHOLDERS, all nicely lined up.
07. | For the INSTAGRAM FAN: A Christmas tree made out of your favourite photos. Inspired!
08. | For clever GIFT WRAPPING techniques go to Handmade Charlotte.
09. | So cute, an edible GINGERBREAD GARLAND by Donna Hay.
10. | If in doubt just get LOTS OF GREENERY for that festive feel and stock up on some mulled wine.


Enjoy and I hope you're inspired!

Credits | I'd like to give credit to all the photographers and designers whose work is featured on this board. Sadly, some of the originators can't be identified anymore so if you recognise your work here please email me and I'll happily credit you and add your link.