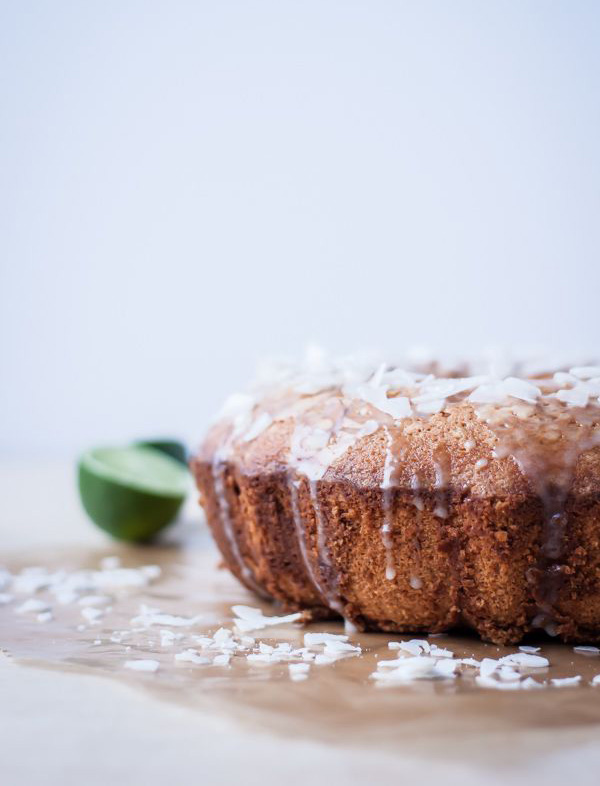 OMG, you guys, I saw this popping up in my Pinterest feed via Laura Davidson over at Blogging Over Thyme and just had to share this. Just the list of the three main ingredients gets my heart and taste buds going and she had me at 'cardamom'.
Coconut, cardamom and lime is a genius combination if you ask me and judging by Laura's tempting photography the texture is soft and light with some exciting floral undertones from the cardamom. Though I'll just have to take her word for that as I haven't had time to test it out yet but I promise you it'll be my next baking challenge. The cowboy loves his limes as well as cake and I'm sure this will be a hit with the kids as well.
Before you head over to check out her other gorgeous recipes let me just mention that this is slightly adapted from Dorie Greenspan who's also been featured on Stylejuicer with her funky branding for NYC Beurre & Sel cookie shop.
COCONUT CARDAMOM LIME TEA CAKE
Prep time // 15 min
Cook time // 60 min
INGREDIENTS:
2 cups all-purpose flour
1 teaspoon baking powder
1 1/2 teaspoons ground cardamom
1/4 teaspoon salt
1 cup canned unsweetened (full-fat) coconut milk
4 tablespoons unsalted butter, cut into pieces
2 cups sugar
zest of 2 limes
4 large eggs, room temperature
1 teaspoon vanilla extract
2 teaspoons dark or light rum
3/4 cup unsweetened shredded coconut (or flakes – see recipe below)
Lime Glaze:
2 tablespoons fresh lime juice
3/4 cup powdered sugar, sifted
2 tablespoons heavy cream
unsweetened coconut flakes, toasted or un-toasted (for garnish)
DIRECTIONS:
Preheat the oven to 350 degrees Fahrenheit (180 C). Generously butter or grease a 9- to 10-inch bundt or Kugelhopf pan.
In a bowl, whisk together the flour, baking powder, cardamom and salt. Set aside. Combine the coconut milk and butter in a small saucepan and place over medium low heat. Whisk until the butter melts completely. Remove from heat, but keep mixture warm.
Combine the sugar and lime zest in the bowl of a stand mixer. Using your fingers, rub the zest and sugar together until fragrant. Add the (room temperature) eggs to the bowl. Using the whisk attachment, beat the sugar and eggs together until pale and thick (roughly 3-4 min). Then, beat in the vanilla and rum.
Over low speed, slowly add the flour mixture until just combined. Scrape down the bowl with a spatula to ensure that all of the ingredients are incorporated. Over low speed, add the shredded coconut (or alternatively, you can process flaked coconut in a food processor until fine). Slowly pour in the warm coconut milk and butter mixture and mix until the batter is smooth.
Scrape down the bowl and pour the batter into the greased pan and bake for 55-65 min, or until cake is golden brown and a knife inserted comes out clean. Allow the cake to cool (in the pan) on a rack for 5-10 min before unmolding. Allow the cake to cool completely before glazing.
In a bowl, whisk together the lime juice, powder and cream. Pour the glaze evenly over the top of the cooled cake. Garnish with coconut flakes.

MORE INFORMATION & PHOTOGRAPHY | Laura Davidson – Blogging Over Thyme

Follow Stylejuicer with Bloglovin