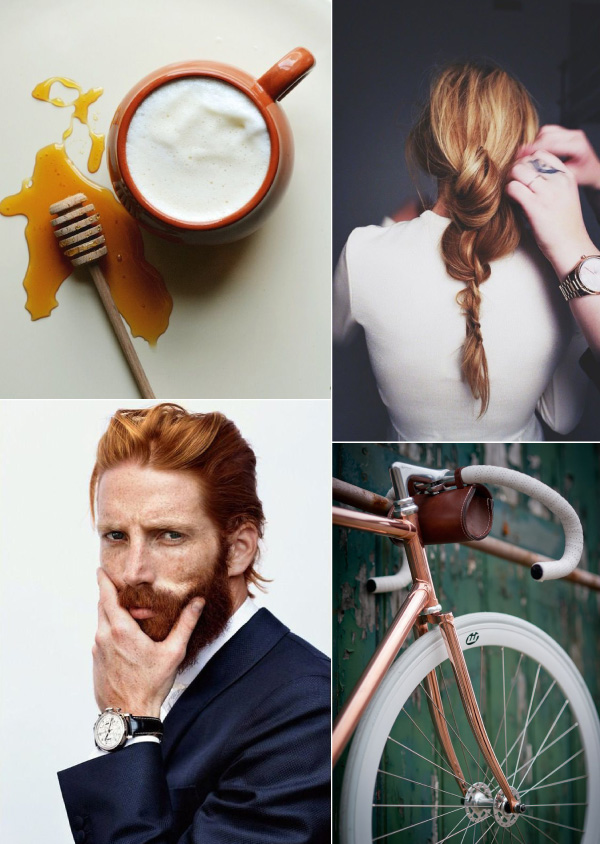 Do you like ginger? It's a bit of a marmite vegetable I think. Love it or hate it kind of thing. I never used to be keen on the taste but since moving to London and immersing myself in all sorts of different flavours and cuisines I've grown to love it and wanted to share my ginger mix with you today. Can you think of any other associates that would sit well here? Happy Wednesday!

T E A / / Fresh ginger tea with steamed honey cream by alwaysorderdessert. Healthy and comforting for all those who can't work out if they suffer from a Spring cold or hayfever – like myself.
H A I R S T Y L E / / I love the random style of this braid as well as the different shades of red. Found on Norwegian model Camilla Pihl's blog.
H U N K / / Johnny Harrington, the former carpenter from London has morphed into a sexy bearded supermodel. Photographed by Johan Sandberg for GQ Australia.
B I K E / / Not strictly ginger but copper and totally gorgeous not just for the bike enthusiast.