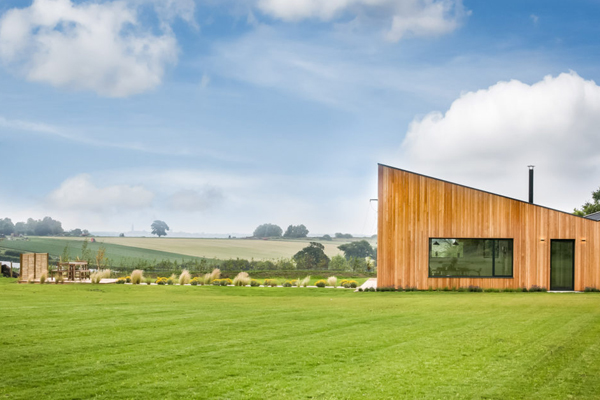 I came across Butterfly Barn via The Modern House last night and got sucked into dreaming about my future property. In their own words "The Modern Home sells Britain's most exceptional living spaces" and the Butterfly Barn by Andrew Hughes Architects is right up there with my top choices.
This contemporary four bedroom house sits in rural Essex on a large plot surrounded by open farmland and the architect's striking roof line echoes the wings of a butterfly which create some dramatic triangular internal walls. The building's clean lines with no overhanging roof, window sills or any other external decoration remind of the barn that previously stood in the same footprint. It's clad in vertical panels of larch timber which emphasise the geometric roof lines and simple square or rectangular shaped windows to take in the views and surrounding countryside.
I love the open plan kitchen / living / dining area with sliding doors leading out onto a terrace and the garden beyond. My favourite room has to be the blue family room though. Such a striking colour, giving a cosy feel yet maintaining contact with the outside through a large picture window.
Another great modern architectural feature are the exposed steels that hold up the roof and allow you to read the building's structure – similar to that of a barn where the timber construction and beams are visible.
I think I might just be able to overcome my fear of living rural with this property. And if you've fallen in love with it too you can actually go and view it this Saturday, 1st July via The Modern House.
Check out another stunning rural residence here – Reydon Grove Farm by Norm architects.